Partner Story VoxelDance + Chamlion Efficiency Enhancement in Metal Dental
Nanjing Chamlion Laser Technology Co., Ltd. is located in China (Nanjing) Software Valley Entrepreneurship and Innovation City. It is a national high-tech enterprise, incubated by Jiangsu institute of 3D Intelligent Manufacturing and the Additive Manufacturing Institute of Nanjing University of Aeronautic and Astronautics. Focusing on selective Laser Melting (SLM) metal 3D printing technology equipment R&D, metal materials, process development and printing services, to provides users with one-stop metal 3D printing application solutions.
VoxelDance partnership with Chamlion in providing software solution of 3D printing data preparation.

Assisted by Jiangsu institute of 3D Intelligent Manufacturing and the Additive Manufacturing Institute of Nanjing University of Aeronautic and Astronautics, Chamlion 3D Printing Public Service Innovation Center owns more than 50 sets of most advanced 3D printing equipment and inspection instrument. The business crosses from 3D printing service, industrial design, lightweight design, small batch customization service. The service is applied in the verticals of medical, aerospace, automotive, industrial mold and so on.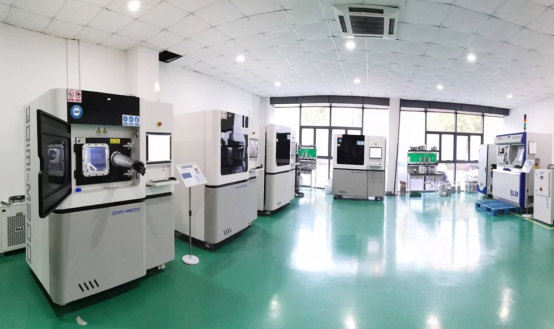 Nanjing Chamlion 3D Printing Public Service Innovation Centre
3D printing significantly increase efficiency in dental. Between personalized customization and mass production, 3D printing has its own comprehensive advantage of efficiency and cost. How to process data in a fast and good way becomes very important for Chamlion and customers.
VoxelDance software has great performance in efficiency. On the build plate of Chamlion dual laser metal 3D printer NCL-M2150T for dental application, the whole plate preparation time rapidly gets shortened to merely about 20 minutes.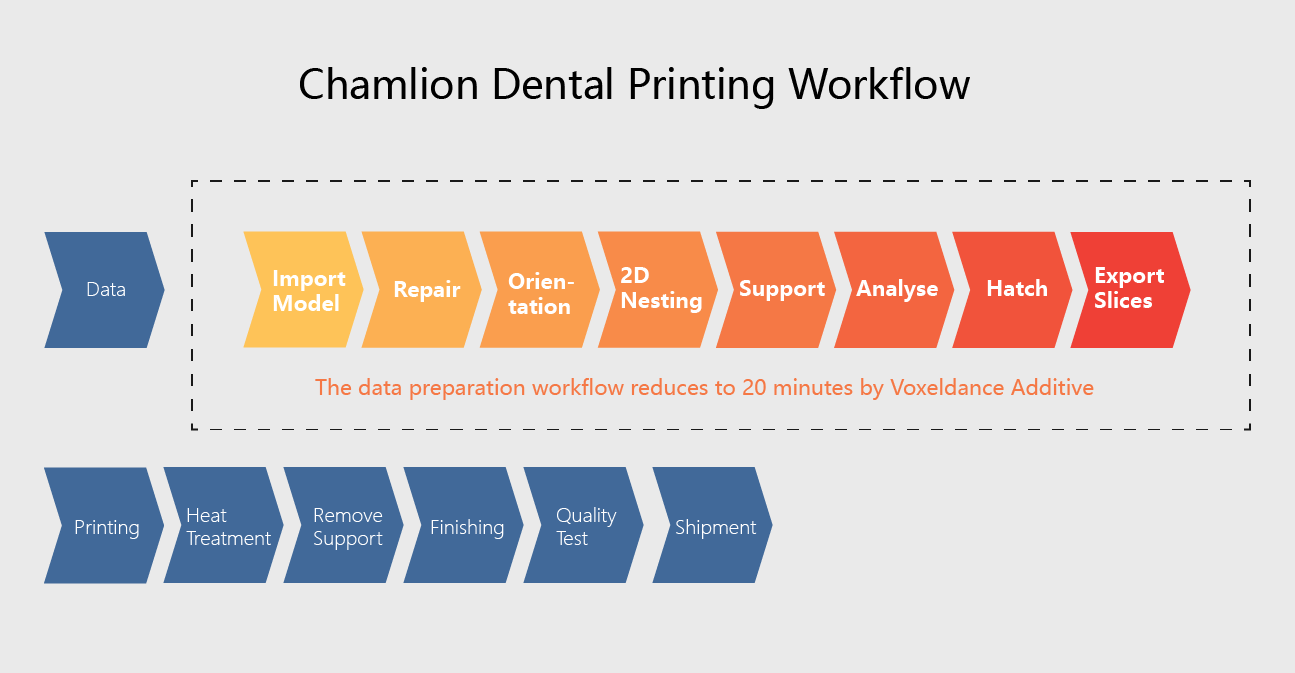 Voxeldance Additive software shows advantages of features in dental printing including:
1. One software has both nesting and slicing functions; no need to install other software to complete
the whole data process workflow.
2. Easy to select and support multi-platform switch; Improve the efficiency in data preparation and
reduce the waiting time of the machine
3. Specially developed function of one-click "all dental crown cups orientation upward";
dramatically reduce the manual placement time and quickly complete orientation optimization
4. Voxeldance Additive software support module offers a variety of editable supports including
tapered support, bar support, block support, solid support and SMART support. Support export and
import function, together with the automatic support script, enable different machines to generate
support quickly, to make operations easier, meanwhile, shorten the training time for new staff.
5. Voxeldance Additive software smart support function can avoid generating less tiny support, which
suits 3D dental printing and increases efficiency in nesting work. Compared with normal support,
SMART support function saves up to 50% materials. Small support head and optimized structural
design significantly improve the surface quality of printed parts and reduce the post-processing time.
6. Easy to generate support for dental crowns of different materials without switching platforms; one
support script can go with different machines.
7. That designed slicing parameter feature of access-permission protect enterprises confidential
process parameter data, and avoid mis-operations of parameter script caused by users which leads to
printing failure.
8. The speed of Boolean algorithm and slicing is fast, which greatly advances the efficiency of data
process.
That Voxeldance Additive maximum optimizes the quality of printed parts with high efficiency same time makes Chamlion the whole dental solution become more competitive. Chamlion service is also highly spoken in the 3D industry.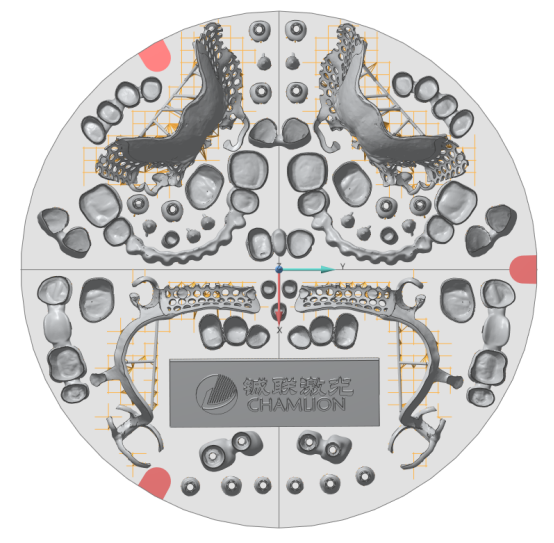 Voxeldance Additive dental data process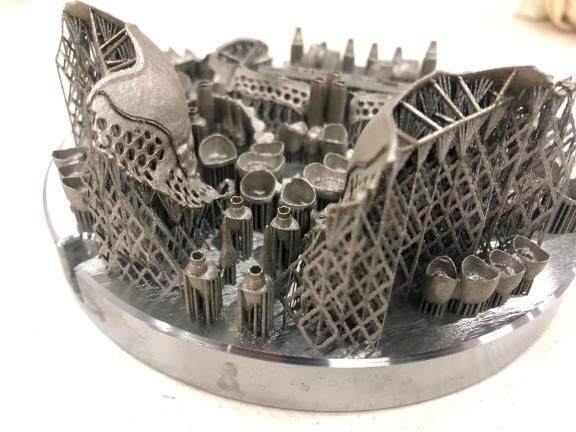 Successful printed dental part done by Voxeldance Additive software data process function
"VoxelDance is a powerful 3D printing data process software, with high work efficiency in nesting part.
Thru fully communication and cooperation with VoxelDance engineers, customized- design slicing module of "Create Processing Files" makes handy to operate for engineers and customers. Engineers can do the process development by setting parameters of slicing, hatching and scanning. Engineers can file and manage encryption of the obtained data scripts for next step. That slicing module feature of "Create Processing Files" allows customers import and export files easily, so that customers enable to achieve slicing work done only with one-click away. By using Chamlion special process script, customers not only can avoid mis-operation of data process but also can quickly finish data slicing process work.
The response and capability from Voxeldance engineers are over the top, they are always very helpful. I deeply believe that VoxelDance software will become great and it definitely plays an important role in China 3D industry."
——Zhang YinQing, Nanjing Chamlion 3D printing Public Service Innovation Center, Process Engineer