10 Best Websites to Download .STL Files
There are many resources online where anyone can find and download STL files. These websites allow you to download STL files for free, but they also have premium options available if you want to access more content. This article will feature the 10 best websites to download STL files for your 3D printing projects. You can know the characteristics of each website and find the STL files you need quickly.
1- Thingiverse (Free)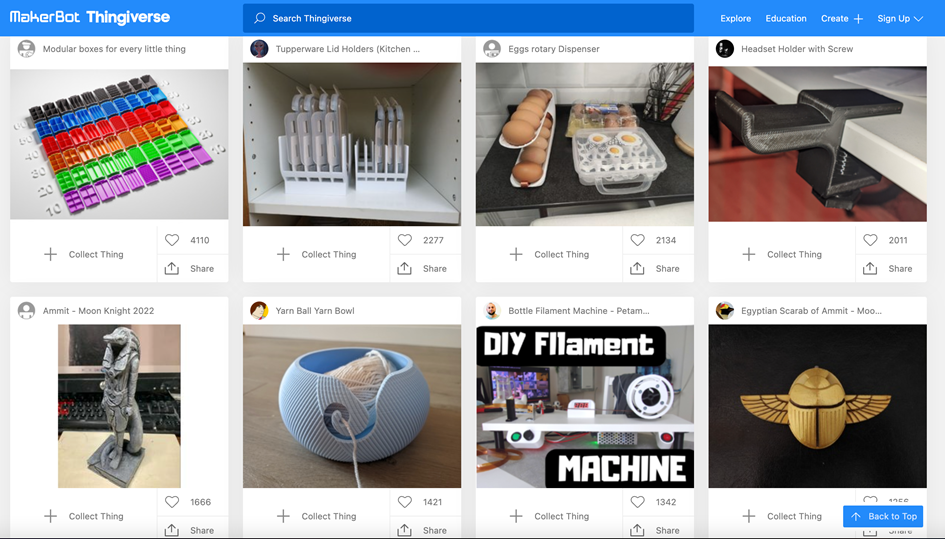 Thingiverse is probably the most popular and best website to find STL files. It was founded by a 3D printing company called MakerBot in 2008. It is the first 3D printing community in the world. The website has over 2,300,010 STL files for 3D printing and various design categories and subcategories. Because Thingiverse is an open community where anyone can upload their 3d printing work, So the quality of stl files varies.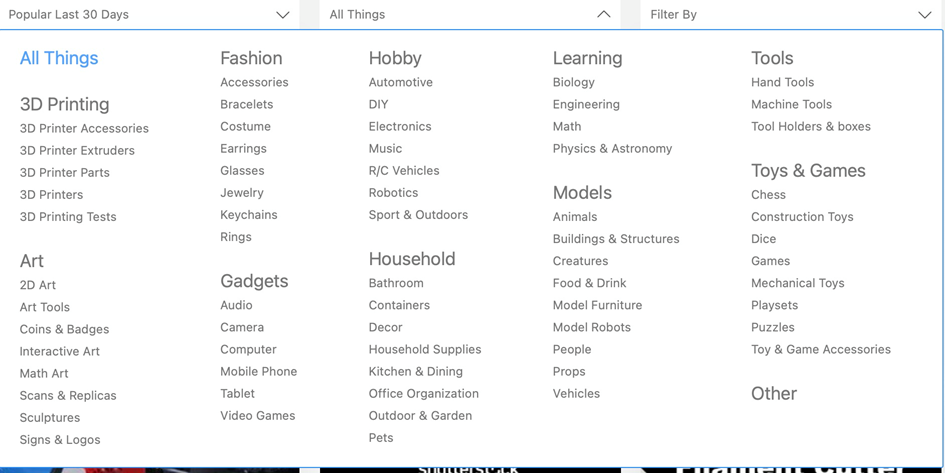 The main users on Thingiverse are using desktop printers, like FDM, DLP, and LDC.
Users can create their accounts and upload their designs. All the designs uploaded are free to download and print as long as the users obey the Thingiverse's license rules. The designs could be created as an education project to enhance STEM learning.
Thingiverse encourages users to interact with each other in many ways. Users can not only comment on others' works but also redesign them and share the model's print.
Users can talk in a group (similar to forums) to ask for help with their specific problems.
2- GrabCAD (Free)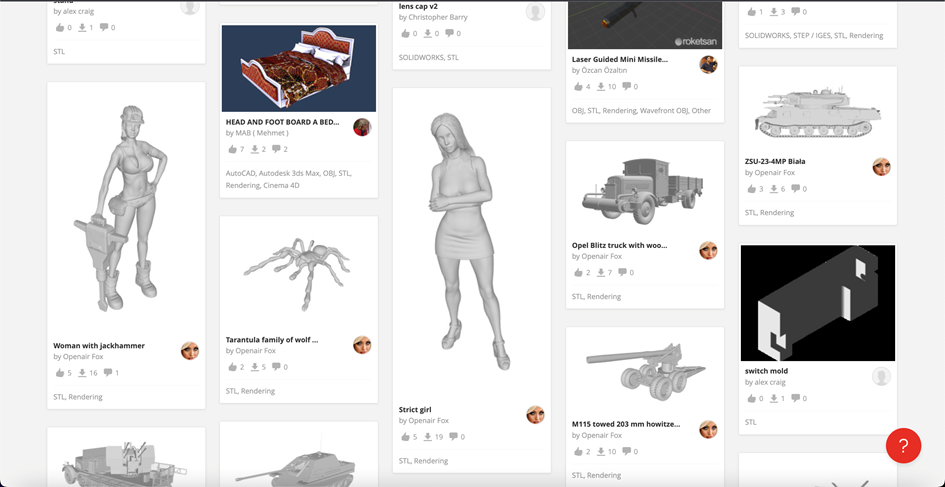 Thingiverse is also a community that allows users to freely upload and download models.
It has over 5,250,000 free CAD files for professional engineers and designers, so it means not all the models are STL files. Most of them are designed by CAD software-Solidworks. GrabCad has tutorials for Solidworks, a group for users to discuss, and challenges for users to participate in to hone their design skills.
3D printing is also one part of their large library. Except for hobbies, toys, and anything for fun, you can find really serious stuff, like aerospace, automotive, medical, energy, power, etc.
So the models on GrabCad are not only for desktop printers, like FDM, DLP, and LCD, but also for industrial printers, like SLA, SLS, or SLM. For industrial printers, you can use Voxeldance Additive to import CAD files and prepare the models.
3- Cults3D (Free, Paid)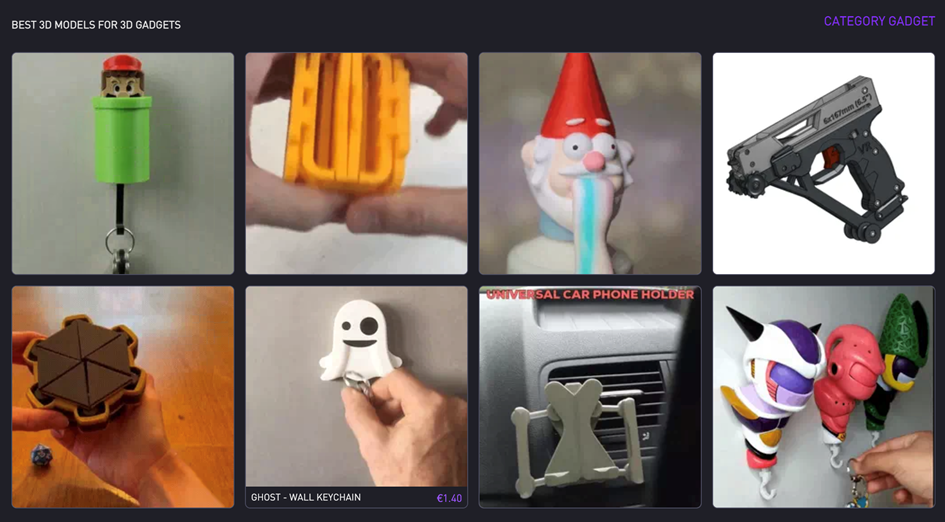 Cults3D is a platform for sharing 3D models and is also a popular place to find STL files. Cults3D has a wide variety of models, including: art, fashin, jewelry, home architecture, gedget, game, tools, etc. on
The models on Cults3D are all 3D printable. Some of them are free, and some are paid.
Similar to Thingiverse, users can also interact on Cults3D, including: leaving comments and uploading their print results.
In addition, Cults3D will organize contests to encourage users to upload good designs and publish blogs to share 3D printing knowledge with users.
4- MyMiniFactory (Free, Paid)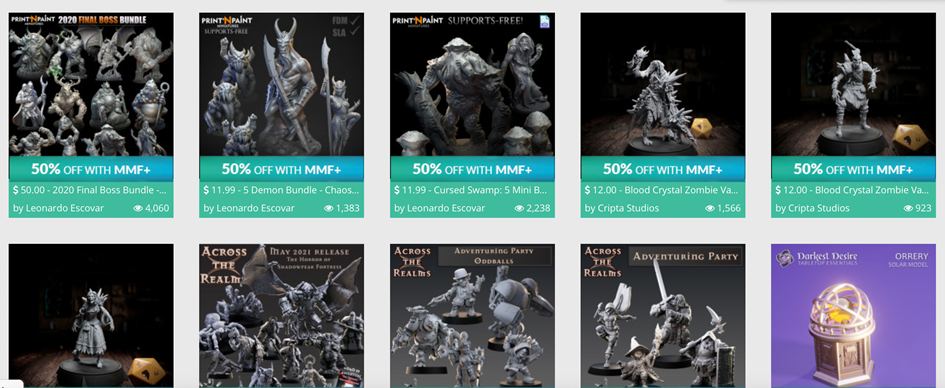 MyMiniFactory is a 3D printing community focusing on games, role-playing, and geek culture.
It has over 100,000 STL files for download or sale, and all the STL files are 3D printable.
What is different from Thingiverse? MyMiniFactory gathers a group of creators specializing in designing models for gaming and role-playing. And it has extraordinary features like tribes, stores, frontiers, and stories to help creators and makers sell their 3D models on the website.
In 2022, Myminifactory acquired a website called only-games.co, a UK-based online marketplace for gaming products. Now the designers can not only sell digital models on MyMiniFactory, but they can also sell physical models on games.co. It is really friendly and supportive for this type of designer.
5- Pinshape (Free, Paid)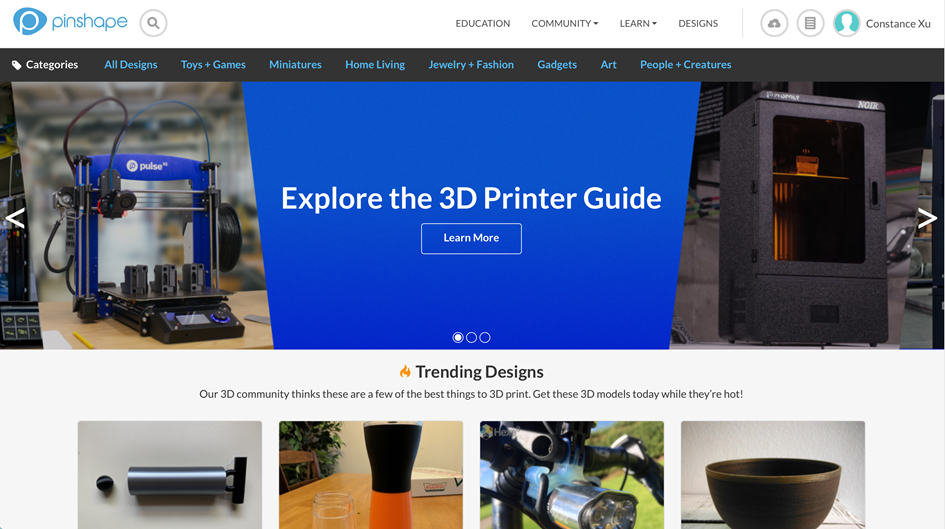 Pinshape was launched by Formlabs as a platform to connect designers and makers. The website is an excellent resource for designers and hobbyists who want to share and download high-quality 3D printable designs. Types of models on this site include: toys+games, miniatures, home living, jewelry+ fashion, gadget, art, prople and creatures. Most of the models on this website are free to download, some need to be paid.
Pinshape also shares 3d printing knowledge with users. It creates content to help teachers learn more about 3D printing and how to use it in a classroom setting effectively.
6- Sketchfab (Free, Paid)

Sketchfab allows anyone to publish and download 3D content online and has a 3D model real-time viewer. It has a large amount of 3d models which cover a wide range of categories.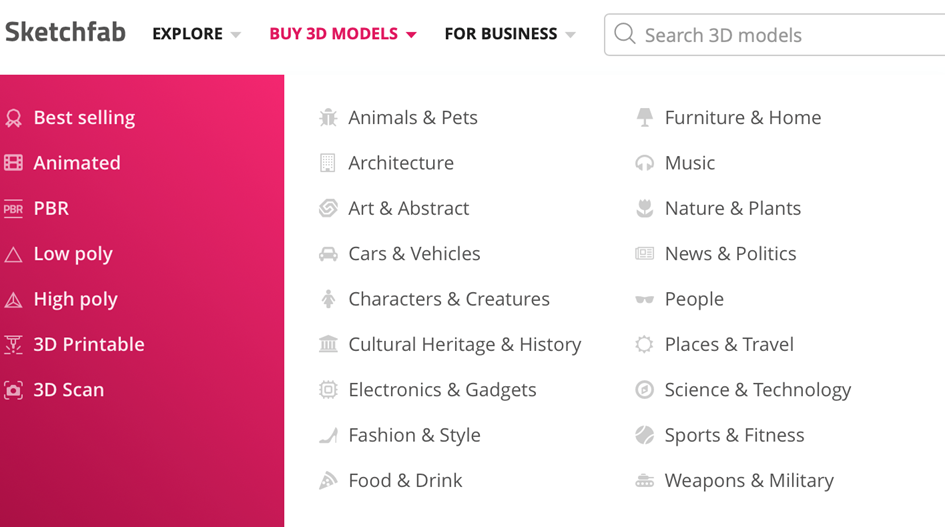 Same as other communities, Sketchfab has a blog, forum and contest for the users. The content focuses more on art, game design, and animation, not 3D printing.
But you still can find lots of good-quality 3D printing models on Sketchfab. Under the [buy 3D models] menu, you can find a collection called [3D printable].
7- loot-studios(Free, Paid)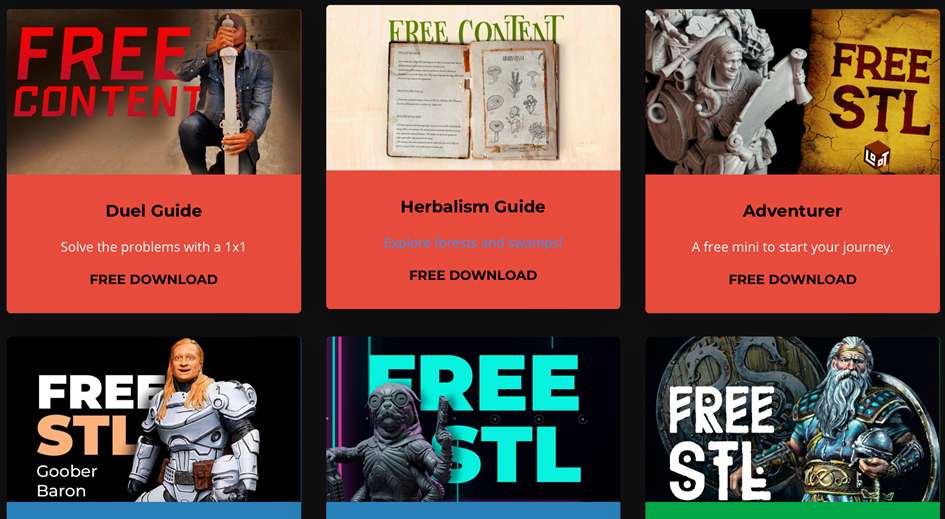 Loot Studios is a team of artists focused on creating highly detailed miniatures for 3D printing.
They provide free STL files, but a few. You can download them and test the printing quality.
If you are satisfied with their design, you can subscribe to loot-studio and every month you will receive a bundle of highly detailed minis STL files.
The bundle you download from Loot Studios includes 3D models in two scales (32mm and 75mm) with/without supports prepared for resin 3d printers.
8- Patreon (Paid)

Patreon is a membership platform that makes it easy for creators to get paid. It's designed to help artists and creators of all kinds build their audience, sell more work, and make a living.
Patreon has become a popular way to find 3D models. The site has over 3 million monthly active patrons, so it's easy to find high-quality 3D printing models on the platform.
Patreon is not a free service. However, you can find high quality 3d printing STL models designed by professional designera on this website.
9- CGTrader (Free, Paid)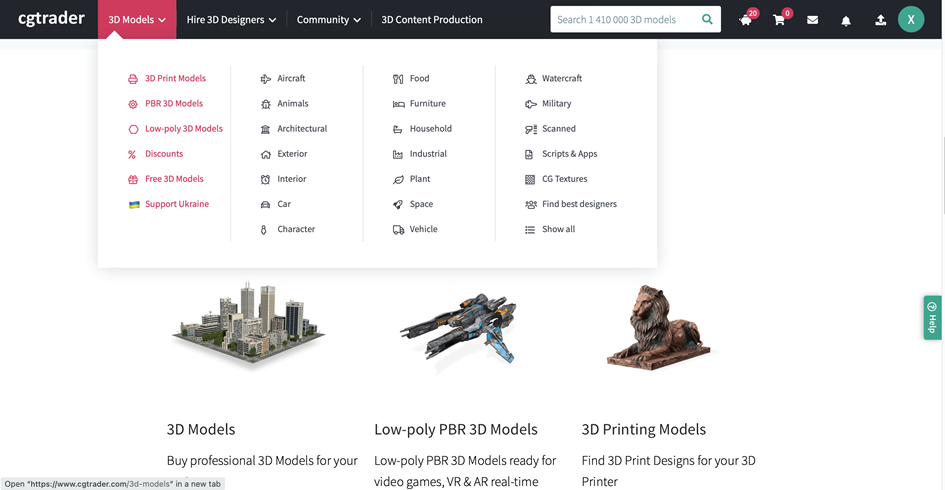 Similar to sketchfab, CGTrader is a community with various types of 3d models, including AR/VR, gaming, advertising, entertainment and 3D printing. You can find some free 3d printing models on CGTrader, but the rest need to be paid for.
If you want a model and you don't know how to make it, you can start a project on CGTrader and hire a designer to work on that. CGTrader will release the payment after you are happy with the result.
CGTrader also have good features, like tutorials, forum, challenges, and digital art competitions, etc. During the COVID-19, they organized a 3D Print Challenge: Resources for COVID-19 Protection, calling on all designers to create and upload free 3D printable models for COVID-19 prevention.
10- Printables (Free)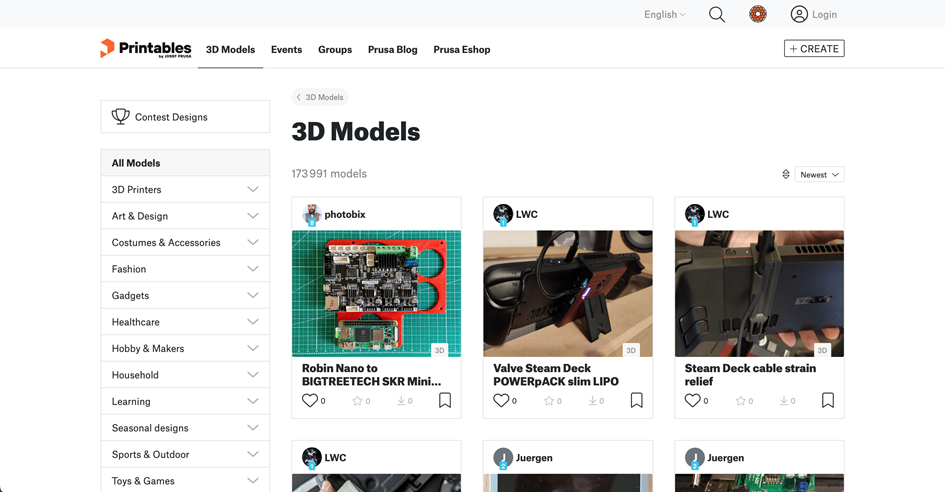 Printables is a 3d printing community created by Prusa. All the models on the website are free and 3d printable.
Same as Thingiverse, Users can comment, like, remix and post a make on the Printable. As it is a Prusa community, there are lots of prints and content related to Prusa printers. If you have a Prusa printer, it will be a good place to go.
Overview
| | | | | | |
| --- | --- | --- | --- | --- | --- |
| website | type | free/paid | pupularity for 3d printing | model type | stl file quality |
| thingiverse | 3d printing Community | free | ★★★★★ | A wide variety of 3d printing models, including 3d printers, engineering, art, gadget DIY, and game, etc. | ★★★ |
| sketchfab | 3d model Community | free and paid | ★★★★ | Not all the models are for 3d printing. Focus on game, animation, and movie. | ★★★★ |
| cults3d | 3d printing Community | free and paid | ★★★★ | All kinds of 3d printing models, including art, home, gadget, game, and tools, etc. | ★★★ |
| myminifactory | 3d printing Community | free and paid | ★★★ | 3d printing models focusd on gaming and RPG culture. Large amount of good quality miniatures and figures. | ★★★★ |
| cgtrader | 3d model Community | free and paid | ★★★ | Not all the models are for 3d printing, 3d printing models include art, gadget game, and DIY, etc. | ★★★★ |
| grabcad | 3d printing Community | free | ★★ | 3d models focused on engineer and CAD design. | ★★★ |
| printables | 3d printing Community | free | ★★ | Related to prusa printers, A wide range of models include 3d printer, art, fashion, gadget, household and game, etc. | ★★★ |
| loot-studio | 3d printing Marketplace | free and paid | ★ | High quality miniatures and figures | ★★★★★ |
| pinshape | 3d printing Community | free and paid | ★ | 3d printing models, including toys, games, miniatures, home living, gadgets, etc. | ★★★ |
| patreon | Creator Community | paid | ★★★ | A large amount of creators of video, music, art, writing, and game, etc. 3d printing model creators are just a small part of it and focus on game minitures and figures. | ★★★★★ |
After downloading STL models, you'll need to prepare them using slicing software. If the models are damaged, which is quite common, you'll need to repair them. Otherwise, your print will fail. If the models are too heavy, you need to hollow it. And in most cases, models can't be printed directly from the build plate, you'll need to add supports to them.
To quickly prepare your models for 3d printing, without spending hours in front of your computer manually adding and repeatly checking your supports, or get frustrated because your printing fails and leaves you disaster scenes to clean, give intelligent slicer VoxelDance Tango a try. Its advanced geometry algorithm enables you to automatically repair, edit your STLs, and add supports wherever necessary with just one click. Download now and claim your 14-day Free Trial: Download Voxeldance Tango