Voxeldance raised tens of millions in Pre-A to build industrial software for additive manufacturing
VoxelDance today officially announced an exclusive Pre-A investment of tens of millions of RMB from Richen Capital, to accelerate additive manufacturing software core technology development, global marketing, and industry application deployment.
As an innovative 3D printing software provider, VoxelDance is dedicated to the independent development of additive manufacturing industrial CAD/CAM software, providing intelligent software solutions to enterprises from healthcare, education, aerospace, industrial, and consumer goods industries.
The Innovative 3D printing software solutions are a key factor in accelerating the growth of additive manufacturing industry and enabling smart manufacturing. With the rapid development of 3D printing technology, the 3D printing hardwares development has far surpassed that of 3D printing software, especially that of additive manufacturing industrial CAD/CAM software.
To break the situation, VoxelDance launched a series of domestic 3D printing industrial software with independent intellectual property rights. They have filled an important gap in the additive manufacturing industrial chain.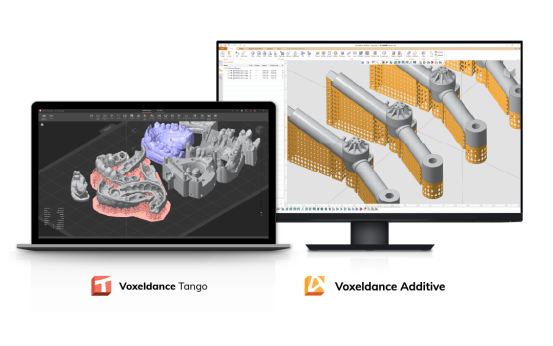 Voxeldance Additive, the first 3D printing software launched by VoxelDance, is an industrial 3D printing data preparation software that supports a wide range of 3D printing technologies such as SLS, SLA, and SLM, and can meet all the needs of 3D printing pre-processing. It has lots of mainstream 3D printing applications such as prototypes, shoe molds, resin/metal dentistry, jewelry, healthcare, education, industrial molds, and consumer products.
Launched in 2021, Voxeldance Tango is a data preparation software for DLP and LCD printers, powered by VoxelDance geometry engine VDK, that allows individual users to experience the performance of industrial-level software.
At present, more and more top additive manufacturers and service providers around the world have chosen to cooperate deeply with VoxelDance, to jointly explore the innovation and development of various application fields of 3D printing technology.
Ms. Qing Chen, Managing Director of Richen Capital, said:
Additive manufacturing is a rapidly growing manufacturing method in recent years. Although at this stage it still suffers from low printing efficiency and high cost, its applicability to almost all forms of processing make it not only an indispensable complement to traditional manufacturing methods but also has begun to be applied to the manufacture of a variety of innovative structural parts that are emerging and cannot be achieved by traditional mold forming and subtractive manufacturing.
The gap between China and foreign countries in the field of additive manufacturing is relatively small, and the overall industrial chain has strong synergistic development. Therefore, domestic additive manufacturing industrial software has the opportunity to grow together with downstream additive equipment manufacturers, compete with industrial software competitors on the international stage, and establish brand reputation through technical strength to gain more market share.
As an important layout of Richen Capital in the growth track of additive manufacturing and the high barrier track of industrial software, we believe that VoxelDance will play an increasingly important role in the 3D printing track and enter a rapid growth track soon.
Zhang Chaoxin, founder of VoxelDance said:
Traditional subtractive manufacturing design and manufacturing software has grown relatively mature, while additive manufacturing still needs to be driven by newly designed CAD/CAM/CAE industrial manufacturing software and technology. Additive manufacturing software is a brand-new track, therefore is the best time for development.
VoxelDance focuses on core technology development and additive manufacturing application innovation, to ultimately promote the arrival of the digital factory by creating professional application tools that integrate the data flow from design to manufacturing.
The mission of Richen Capital is "to be the capital partner of invisible champions", which is a good match with the development needs and characteristics of VoxelDance.
After this round of funding, Voxeldance will further increase its investment in R&D, expand overseas markets, establish and develop a first-class enterprise and team with independent innovation capability in the industrial software industry.
About Richen Capital
Since its establishment in May 2015, Richen Capital (Richen Investment Management Co., Ltd.) is a leading new private equity investment institution in China, upholding the concept of "financing" and "talent investing", integrating equity investment with new investment banking services, and devoting itself to becoming the best partner and the best promoter of the entrepreneurs.